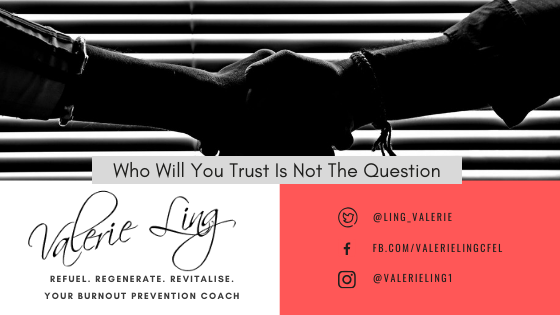 One of the common issues that I hear come up in working with burnout in small business owners is the emotional exhaustion they experience negotiating conflict within their team. You spend so much time as a business owner building something from your own personal space that when we have other people "move in", the communication can get muddied. We implicitly assume that trust will come through the personal connections we make with our team. However, it is not just YOU they need to trust. It is the process and the position that also requires mutual trust. Without clarity in our communication, we can get entangled in dynamics that lead us to feel:
* Betrayed
* Attacked
* Taken for granted
* Taken for a ride.
Can I say - and vice versa. Our team can feel the same as well. That is because, in a small business environment, trust and buy in feels so personal - both ways. Both for the business owner who has invested in their business, and their team who have invested in taking the risk to sign up!
Essentially, there are three layers of trust that exists in any commercial relationship. Personal, professional and positional. Personal trust speaks to the personal integrity and dealings you have had with one another. Is the relationship respectful, honest, humble and seeking to make give and take work. There is Professional trust. Can you count on one another to take ethical, competent and technically sound steps to work together. Then there is Positional trust. Is there acceptance of the role you as the business owner occupies, and the role of each member on the team to take, allowing for effective team work.
When conflict arises in a small business it can commonly have personal meaning attached to it, when in fact, it could be relying on some other dimensions of trust. These areas of trust are not mutually exclusive, they need to be seen together as a lens for effective communication and teamwork, and not be split off into confusion.

Every week, for 5 weeks, from the 7th of November 2019 I will provide you with templates and visual material for both you and your team to align your perspective. It's a DONE FOR YOU RESOURCE called ALIGN BY DESIGN. What you get:
+ 5 conversation templates for you as the business owner to have with your team
+ 5 videos and processing material for you to get comfortable and confident with these conversations AND
+ 5 videos and communication prompts for your team members to view and align their thinking with yours
+++ LIFE TIME OWNERSHIP, never have to renew - it will always be available
Modules will start to be available from the 7th of November, one conversation released each week. You can start to access the conversations relevant to you, or use them all! Your choice, there is no EXPIRY date.
How can you be part of this conversation revolution? Click here for more details…https://www.valerieling.com/align-by-design
Categories: None